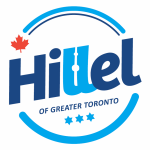 UNIVERSITY OF TORONTO STUDENTS FIGHT BACK AGAINST BDS
University of Toronto Students' Union Board of Directors overwhelmingly
rejects creation of BDS committee
July 28, 2015 (Toronto, Ontario) – Tonight, during an emergency meeting called by the University of Toronto Students' Union (UTSU), student representatives of the Board of Directors voted to reject the creation and funding of a BDS ad- hoc committee that would work to advance the Boycott, Divestment and Sanctions movement on campus. After lengthy discussion of the issue by both sides, the Board of Directors rejected the motion via secret ballot.
With a significant majority of 17 NO votes to 7 YES votes (with 2 abstentions), student representatives indicated their clear desire to maintain a safe and inclusive campus for all students at the University of Toronto.
Rachel Glowinsky, a fourth year student at the University of Toronto and Hillel Israel Engagement Intern, spoke against the motion: "BDS is not on the side of peace. It is not truly a pro-Palestine or a pro-Israel movement. It is a club that exclusively recognizes the legitimacy of one people, and one narrative while rejecting all others. We must seek to join forces in promoting cooperation, mutual respect, and rights. We must all be on the side of peace."
Another fourth year student, Turina Simanduyev, spoke out against the BDS movement during the meeting. "BDS supporters hide behind the word 'anti-Zionist' to argue against equality," she said. "Seeking to deny Jews the right to self-determination, BDS conflates facts, taking advantage of the ongoing conflict to promote the rights of one people over another."
Following the vote, Marc Newburgh, Executive Director of Hillel of Greater Toronto, commended the verdict of the UTSU Board of Directors. "This decision is an important step toward building a campus community where all students, regardless of their background and identity, feel safe, welcome, and secure," he said. Adir Krafman, Coordinator of Advocacy in the GTA for Hillel of Greater Toronto, echoed Mr. Newburgh's sentiments, and added, "We are grateful to the UTSU Board of Directors for striking down this motion, and are extremely proud of our student leaders who work tirelessly every day to ensure all student voices are heard."
Hillel of Greater Toronto extends its gratitude to all students who helped defeat BDS at the Board of Directors meeting. The organization remains committed to combating anti-Semitism, anti-Israel hatred, and all other forms of racism on campus, and will continue to support students to this end.
About Hillel of Greater Toronto
Hillel of Greater Toronto is the address for Jewish student life. Through exciting and creative programming and events, Hillel promotes Jewish identity, student leadership and religious and political diversity in a dynamic and inclusive environment for all Jewish students.
For more information, please contact:
Adir Krafman
Coordinator, Advocacy in the GTA
Hillel of Greater Toronto
e. [email protected]